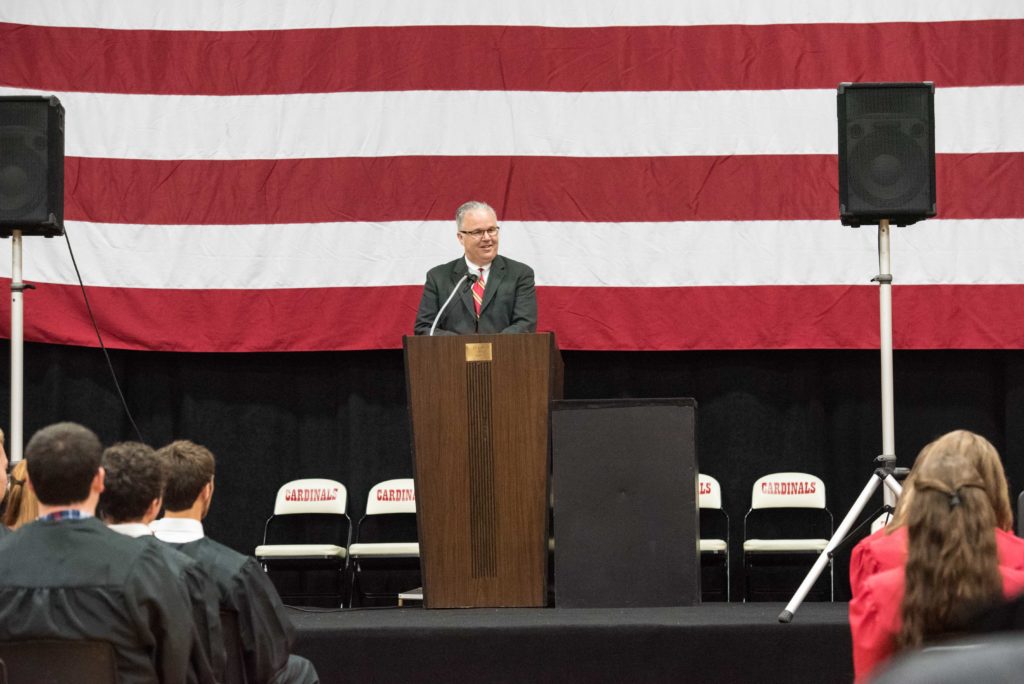 This is not an exact transcript. I preached a slightly shorter version. My central point was that, even when facing those intolerant of Christianity, we should name the name of Christ. Salvation is found in no one else (Acts 4:12).
I am privileged to deliver the baccalaureate sermon to the 2016 Stillman Valley High School graduates: a group so loved by our community. After introductory remarks, my plan is to read the Bible text, pray, and share a few thoughts.
By way of introduction, if you have not previously attended one of these services, we want to stress that this is not an official school event. Rather, baccalaureate takes place as an explicitly Christian worship event organized and led by our students. The school graciously approves rental of the facilities for a non-school event.
I speak today at the invitation of those who organized baccalaureate. Which is to say that, though I am a parent, I stand here as a minister of the gospel of Jesus: that is, as a servant of the good news of eternal life in Christ.
Of course, we welcome people of all faith backgrounds to this service and we are thankful to reflect with you on truth at such a pivotal time. We live, it would seem, in an age of growing intolerance and we want nothing to do with an unwillingness to fairly engage with different points of view.
To the students, we are thankful for those of you who made this a priority. We know you are busy and I have prayed earnestly that you will be blessed for being here.
Our Bible text for today's baccalaureate message is from the New Testament book of Acts. God the Holy Spirit wrote Acts nearly 2,000 years ago through a physician named "Luke."
You may be interested to know: God used Luke to write more words of the New Testament than any other author. We find Luke's writings in two parts:
Part 1 of Luke's writings is the Gospel of Luke: his account of the Lord's Jesus Christ's entrance into history, of his journey to the Cross, and of his death, burial and resurrection.
Acts constitutes Part 2 of Dr. Luke's writings. The title "Acts" is spelled "A-C-T-S", not "a-x"! Acts is so named because this portion of Scripture references the acts or deeds of the apostles in beginning the church.
Where the timeline of this passage is concerned, it is helpful to see the beginning of Acts in the context of Christian holidays.
We recently remembered Good Friday when Christ was crucified for the sins of his people.
The Sunday after Good Friday we celebrated Easter: remembering the Lord's bodily resurrection which demonstrates Christ's victory over sin and Satan and promises that Christians who have given their lives to Christ will one day themselves be resurrected and share eternity together with Jesus on the new earth.
Tomorrow – – seven weeks after Easter – – the day you graduate – – is PentecostSunday which remembers how after Jesus ascended into heaven the Holy Spirit was poured out on the Church and the church officially began. The account I will to you today takes place only a few days after Pentecost.
High level, the situation is that the intolerant religious establishment of the day confronted the Apostle Peter and John because they saw them as a threat. Peter and John had healed a man who had been lame from birth (Acts 3:1-8). They were on their way to the temple for afternoon prayers when they saw a man well known to everyone because he was crippled. The only way this crippled man survived was to be placed at this gate that was the center of traffic so that he could beg for charity.
Now you know how it is. People who do not intend to give beggars anything ignore them when they walk past them. Peter and John, however, when they got to this beggar he called out to them and said, "Hey, look at us. [5] …he looked at them expectantly… [6] Peter said, "I have no silver and gold, but what I do have I give to you. In the name of Jesus Christ of Nazareth, rise up and walk!" [7] And he took him by the right hand and raised him up—as though he was getting up after a football play– and immediately his feet and ankles were made strong. [8] And leaping up he stood and began to walk, and entered the temple with them, walking and leaping and praising God.
[9] And all the people saw him walking and praising God, [10] and recognized him as the one who sat at the Beautiful Gate of the temple, [begging]. And they were [blown away] by what had happened to him. Acts 3:1-10.
Having heard the ringing of cow bells after we win a football game, we can only imagine how quickly the crowd energy of a well know lame man leaping rippled through Jerusalem.
But the power of Christ – – which meant healing for this man – – threatened the power of others intolerant to the claims of Christianity. Soon enough the religious establishment arrived on the scene. The Bible tells what happened next and this is our text:
[1] And as they were speaking to the people, the priests and the captain of the temple and the Sadducees came upon them, [2] greatly annoyed because they were teaching the people and proclaiming in Jesus the resurrection from the dead. [3] And they arrested them and put them in custody until the next day, for it was already evening. [4] But many of those who had heard the word believed, and the number of the men came to about five thousand.
[5] On the next day their rulers and elders and scribes gathered together in Jerusalem, [6] with Annas the high priest and Caiaphas and John and Alexander, and all who were of the high-priestly family. [7] And when they had set them in the midst, they inquired, "By what power or by what name did you do this?" [8] Then Peter, filled with the Holy Spirit, said to them,
"Rulers of the people and elders, [9] if we are being examined today concerning a good deed done to a crippled man, by what means this man has been healed, [10] let it be known to all of you and to all the people of Israel that by the name of Jesus Christ of Nazareth, whom you crucified, whom God raised from the dead—by him this man is standing before you well. [11] This Jesus is the stone that was rejected by you, the builders, which has become the cornerstone. [12] And there is salvation in no one else, for there is no other name under heaven given among men by which we must be saved." Acts 4:1-12.
Let me pray and then I will share a few thoughts.
Our Father, in heaven, my prayer today is that of the apostle Paul's prayer in Ephesians 6:19-20. I ask that you would enable me to speak the Good News of your Son with boldness – – that I may declare it boldly as I ought to speak.
I pray this in the name of Christ. Amen.
"Name the name": this is my thought for you today. It is my thesis. My central aim is to encourage you to specifically remember people, events, and places by name. Pronounce their names. Say their names. Whether or not people are interested – – even when they are intolerant of your beliefs—name the name.
Now, hopefully, the idea of a thesis or main idea is a familiar one to high school graduates. Your teachers began pounding the concept of a main idea into your malleable minds in late elementary school. Do you remember the essay diagrams where there was a middle circle for the thesis and then surrounding circles for supporting points? So, in terms of those essay diagrams you learned in late elementary, "name the name," would be the middle block of the diagram.
Maybe I should qualify the thesis by saying, "Where good memories are concerned, name names," because doubtless there are things many of you have done that you prefer not be remembered. I'm not saying you need to remember every Saturday school.
You have repeatedly been taught that a good thesis deserves explanation. The best way I can support the thesis I have for you today is by way of examples. Let me start with places. As you make your way in this world, many people will ask you where you are from. Name the name of your place.
Noah, for instance, will be privileged to cross the Mississippi river to the great state of Iowa. Now, when you're at Iowa State, when someone asks where you are from, don't answer generally. Don't say – – "I'm from Illinois." Say "Stillman Valley" in a way that implies they should know as much about Stillman Valley as they do about Cedar Rapids.
Makala, it should be the same thing in Colorado. Don't say, I'm from Illinois – – or, I'm from near Chicago – – or worse yet, near Rockford – – say, "I'm from STILLMAN VALLEY, IL."
It is fine to explain the location of where you are from relative to Chicago or Rockford or whatever works – – but come to the point where you say the name.
Say the specific name of events. Name the name. Say, for instance, "our musical my senior year was Hello Dolly starring Savannah Giddings as Dolly." Or, when referencing football plays, say, "We ran the veer offense in the mud in Oregon, IL our last game.
Name the names of people. Find times to pronounce your grandma's name the rest of your lives. Be specific. Say Emily's name. Say, "I lost a beautiful friend my senior year. Her name was Emily Flemming." You remember her now and will continue to do so. Keep saying her name. Say your mom's name. Talk to other people about your dads by name when you can.
Consider three important reasons to name names.
First, by referring to people and places specifically, you will make fun and exciting connections. You will be pleasantly surprised in London, England if you say you're from Davis Junction and someone tells you they have been to Davis Junction. Better still – – tell someone your grandfather's name and they will say, "Oh yes, I knew your grandpa. Did he ever tell you about the time . . . ?" A good story may follow.
Second, and more important, naming names demonstrates gratitude. Remembering someone by name is a way to be thankful the rest of your lives. For so many of you, your grandmas and grandpas, aunts and uncles, organized their schedules around you. Specific people loved on you from the moment you were born. Now, the rest of your lives, you can be thankful for them by remembering their names. Your moms and dads did so much on your behalf.
Third, and most important, naming names shows love andloyalty. To specifically connect ourselves identifies our allegiance. It shows where we belong. In the next decade – – a large number of you will marry someone. Here is a little tip for you – – if you are in what you think is a serious relationship, but the other party is not willing to tell anyone your name – -well, that's a really bad sign. People don't get married in general, they get married in particular – – they say their vows publically and, in the vast majority of cases, share the same last name.
Now, this matter of naming the Name is precisely what is in view in Acts. The intolerant leaders who crucified Christ demanded that Peter explain his allegiance. "By what power or by what name did you do this?" They wanted to know where Peter was coming from in terms of his faith.
Those who were intolerant of early Christianity, would have been quite content if Peter had answered them with a general reference to "god" that aligned with their allegiances and did not threaten the influence of the power brokers.
But the apostle Peter was having nothing of it. Peter said – with laser like specificity – – "Rulers of the people and elders, [9] if we are being examined today concerning a good deed done to a crippled man, by what means this man has been healed, [10] let it be known to all of you and to all the people of Israel that by the name of Jesus Christ of Nazareth, whom you crucified, whom God raised from the dead—by him this man is standing before you well. [11] This Jesus is the stone that was rejected by you, the builders, which has become the cornerstone. [12] And there is salvation in no one else, for there is no other name under heaven given among men by which we must be saved." Acts 4:1-12.
Notice, Peter was specific about the place: Nazareth. The events: the crucifixion and resurrection; Most of all – -the person: Jesus. Regardless of their intolerance and threats – Peter was specific and clear. Peter named the name.
This confession of Christ was exactly what the religious authorities did not want to hear. And the Apostles understood for their part that a specific confession of Christ would likely mean death. Indeed, naming the name did mean death for many in the early church at the hands of those intolerant of Christianity. While Peter's death is not recorded in the Bible, historical documents tell us that Peter was later executed. And Scripture does tell us of Stephen, James, and others who died at the hands of those intolerant to Christianity and hostile to the name of Christ.
Still, we must see, that not fearing the intolerance of the day – – Peter named the name of Christ.
For him, it was a matter of connections – – we are with the one you opposed – -and now we are part of the body of Christ – the church of Jesus Christ.
It was a matter of gratitude – – he was crucified for our sins – – he paid the penalty we deserve.
It was matter of love andloyalty. We have decided to follow Christ and there is no turning back.
Peter spelled it out very specifically:
And there is salvation in no one else, for there is no other name under heaven given among men by which we must be saved." Acts 4:12
In giving this confession, Peter shared what Christians call the good news or the gospel. His point was that even though all fall short of God's standard, those who trust Christ as Lord and Savior are forgiven on the basis of his atoning work on the cross and will spend eternity with him.
Stillman Valley Class of 2016: As you go out into the world, people will ask not just where you're from, but where you're coming from, in terms of faith commitment. Where faith is concerned, it will be up to you to decide where – – like Peter – you will name the Name.
We live in an age of vague generalities and qualified allegiances. Yet, to be a Christian is to accept and believe a very specific claim – – that Jesus is the way, the truth, and the life – that no one comes to the Father except with him as King (John 14:6).
To be sure, there can be a cost for following Christ. Many are intolerant of Christianity. People are comfortable alluding to the man upstairs – – or even God – – or a higher power. Increasingly, broader culture allows undefined allegiances. But this is not the Christian faith. Salvation is found in no one else for there is no other name under heaven given to humanity by which we can be saved.
Inevitably, those intolerant of Christianity will object that naming Christ is narrow and dogmatic. The answer is, "Well, of course, it is narrow to say that Jesus is King." Truth is narrow – -by definition. Are you from Davis Junction or aren't you? If you are – – to say you are from DJ isn't being unreasonable. It is the truth. Is Christ God or not? Was he resurrected or not? The answer is inevitably narrow.
Surely it is also obvious that is as narrow to deny that Christ is not the Messiah as to believe that he is.
Or, maybe you have heard someone accuse: "You are a Christians because you were born in America." To this, we would respond, "be reasonable." We don't have to think long about that accusation to see it doesn't hold together. Jesus lived in Asia. We live in North America – – the other side of the world from Christ – – we are not Christians because we live in America; we are Christians because Jesus is the way, the truth, and the life and no one comes to the father except by Him – – and those who lived on the other side of the world went throughout the world to make disciples.
To be sure, there are some religions that are relatively limited to particular places. But not Christianity. And where the spread of Christianity is concerned, it is worth noting – – Christianity does not obliterate cultures – it does not insist that people all dress the same way nor does it oppress – rather, it is redemptive.
Someone still others object, "Well, naming Christ is offensive to those who disagree." It may be – – but the nature of truth and loyalty demands specificity. Just as it would be silly to say you should not get married because some other disappointed person will resent your allegiance, it is ludicrous to say that you cannot confess the name of Christ because someone else may not like it.
And – of course – the sword that the cries "foul" when a different position is articulated cuts both ways. It could just as easily be pointed out that those who deny Christ are being unfair to believers.
Christian graduates – – those of you who are followers of Jesus Christ – – the expectation is that you have given your lives to Christ with a willingness to confess his name – – even to die for his name if necessary. This is saving faith. This is not a matter of being unreasonable. And there is every reason to follow Jesus. If it was clear in the book of Acts, that a lame man leaped, it is one million times more vivid today that Christ went to the cross, was crucified, and rose again. Any objective examination of the evidence bears out that it is the name of Christ that has brought salvation and freedom wherever people bow before him. It is the name of Christ that has shaped all of history – you are, after all, graduating in this, the year of our Lord, 2016, so dated because time is measured in terms of his life. As surely as North America has steeples on the horizon of nearly every small town, the good news of Jesus has gone into the world.
Now, how will you respond when intolerant people demand an explanation for your life? I implore you to look to Christ. Name the place (He was from Nazareth and he went to the cross on Calvary), the event (the Cross and resurrection), name the name: Christ.
I recognize, of course, that everyone hear may not be a follower of Christ. To you – – I would encourage you to investigate very carefully who you will serve – what name will you name. Don't think about life's big questions in general – – consider them in particular. Who is Christ? What did he claim? What is love? Who is the source of love? If you have any question talk to one of your pastors or leaders. Ask specific questions.
In concluding, allow me to practice what I preach. As one of your pastors, I love you – – not in general – – but in particular. We love the graduates of Stillman Valley High School. And I commend to you the good news – – that salvation is found in the name of Jesus Christ. Name the name.
The post Baccalaureate Sermon 2016: Name The Name appeared first on A Brick in the Valley.
Authors: Chris
Read more http://chrisbrauns.com/2016/05/baccalaureate-sermon-2016-name-name/